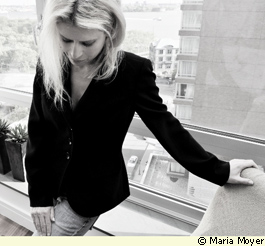 Hilary Lewis is an expert on architecture, urban planning and real estate development who has produced books, articles, magazines, websites and film. Trained in public policy, urban planning and history of architecture, she examines and comments on the challenges confronting the 21st-century city. Currently, she serves as Chief Curator & Creative Director at The Glass House, a site of the National Trust for Historic Preservation and the former residence of eminent architect Philip Johnson.
Lewis has collaborated with leading figures of the building industry. With eminent architect Philip Johnson, she wrote two books, multiple articles and produced a short film during over a decade of ongoing work. Lewis recorded extensively Johnson's memoirs and ideas on architecture, making her today a renowned source for information on the late architect. Johnson and Lewis co-authored pieces for magazines and exhibitions, including work for The New York Times Magazine, Details and the Venice Biennale. Following Johnsonís passing in 2005, Lewis curated a major museum exhibition on the architect and served as the Philip Johnson Scholar at the National Trust for Historic Preservationís Glass House site.
A specialist on real estate development as well as the aesthetics of architecture, Lewis has also served as a consultant to Hines, the international real estate firm led by Gerald D. Hines and known for its dedication to design excellence in commercial development. After the tragic events on September 11, 2001, she co-authored THINK New York: A Ground Zero Diary, a major book on the master planning and rebuilding at Ground Zero, produced with Rafael Viñoly Architects and published by Images Publishing.
She was a founding member of the editorial board and a contributing editor at two monthly publications launched in 2003 and 2004, HOME Fort Lauderdale and HOME Miami. Both of these magazines explored new ideas on architecture, real estate and design in Florida, achieving readership of 200,000 before being acquired by media giant Bonnier Corporation. In 2009, she began work on Esplanade as its founding Senior Editor. Esplanade celebrated the architecture and design of the Boston region. In 2011, she was part of the editorial team that formed Tropic, a monthly publication focused on architecture and design of interest to the South Florida region.
In addition to research, consulting and writing, Lewis is a skilled public speaker. Her talents in this area were developed over years of teaching, first at MIT, then at Harvard.
For more information on Lewis please visit the Authors Guild.
---